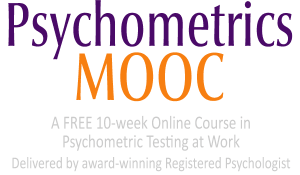 In Module 10 of our 10-week, Free Online Psychometric Testing Course, we look at Ethical Issues in Psychometric Testing. This draws on everything we have covered in the course so far because by following what has been taught, Learners will be practicing ethical psychometrics. This Module cements this by summarizing what can and cannot be with tests and test results and discussing fair and unfair behavior in psychometrics at work.  Module 10 will be released on 9 December, 2015 to those registered for our Free Psychometrics MOOC. Below is a longer outline of what is to be covered.
Summary of Module 10: Ethical Issues in Psychometric Testing
We have been on a long journey into psychometric testing at work. Throughout the course we have shared how important it is to do things properly and competently. This was right from the informed and scientific choice of psychometric tests, through to how we administer the test and then on to our ultimate treatment of test results. In this final Module of our course, we bring the ethical issues together as a focus and talk about what we can, cannot and should do when it comes to ethical psychometric testing at work.
Learning Outcomes for Module 10
– Understand the rights of the psychometric test candidate
– Know what you can and cannot share with clients and decision-makers
– Understand the shelf-life of psychometric tests
– Know about the neglect of psychometric test ethics by applicant tracking systems
– Understand data protection laws
– Have the foundation for developing your organizational policy on data protection and ethics in psychometric testing
– Understand how everything else we have covered on the course needs to form part of your ethics policy
Register for Free Psychometric Test Training Course
Join Learners from all over the world and network/interact with them and our facilitator in our Learner Forums, Discussions and Live Sessions between 7 October and the end of December, 2015.