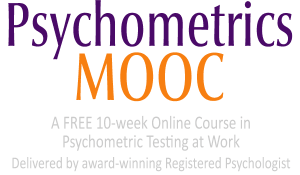 In Module 8 of our 10-week, Free Online Psychometric Testing Course, we look at Interpreting Psychometric Test Results. Now that we know how to score psychometric tests and transform between different score systems, it is time to consider how we will add meaning to those scores by competent interpretation. In this Module, our Learners will be taught how to interpret both aptitude and personality assessments and how to form hypotheses of potential work behaviors on the basis of these test results. Module 8 will be released on 25 November, 2015 to those registered for our Free Psychometrics MOOC. Below is a longer outline of what is to be covered.
Summary of Module 8: Scoring Psychometric Tests
By the time we start this Module, we have reached the stage in our journey with Psychometrics whereby we have scored the test and now we need to add meaning to that score. This is referred to more formally as psychometric test interpretation. In this Module we will teach you what factors you need to keep in mind as you interpret all types of psychometric tests. We will then move on to demonstrate test interpretation using real aptitude tests and personality assessments. We will consider different scoring systems, different methods of using test scores (normative, ipsative) and how to form hypotheses (predictions) of potential respondent work behavior on the basis of test results. This will prepare us for the next Module which considers how to convey the above information to decision-makers and candidates.
Learning Outcomes for Module 8
– Understand the critical factors to keep in mind throughout test score interpretation
– Know how your interpretation skills (or lack of them) can impact the reliability and validity of your test
– Know the three things we do with test scores to make them meaningful
– Understand the different types of personality assessments (normative and ipsative) and how to begin interpreting them
– Understand what style scales are and how they are used
– Understand what global scales are and their limitations
– Understand what primary scales are and how to interpret them with greatest validity and impact
– Understand what derived scales are and their limitations
– Understand the difference between trait and type tools
– Know why type assessments should never be used in selection.
Next Module in our Psychometrics MOOC
In our next post, we will cover Module 9: Psychometric Test Feedback
Register for Free Psychometric Test Training Course
Join Learners from all over the world and network/interact with them and our facilitator in our Learner Forums, Discussions and Live Sessions between 7 October and the end of December, 2015.