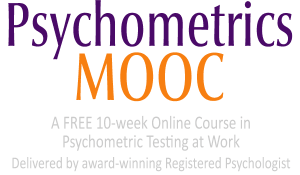 In Module 4 of our 10-week, Free Online Psychometric Testing Course, we consider the topic of Psychometric Test Reliability.  This Module will be released on 28 October, 2015 to those registered for our Psychometrics MOOC. Below is an outline of what is to be covered.
Summary of Module 4: Psychometric test error & confidence
In the previous Module, we learnt about reliability and how it impacts test validity. In this Module, we are going to delve a little deeper into the impact of reliability on the practical use of psychometrics. Simply put, if your car is not reliable, you have little confidence that it can do what it is supposed to do (get you from A to B).  In psychometric testing, poor reliability also impacts our confidence and that is what this Module will discuss.
After introducing the concepts of error and confidence and how they relate to test reliability, we will go through a practical demonstration of how to apply these concepts in real life. Learners will become aware of how to calculate how confident they can be that any test score accurately represents a candidate's true score for any psychometric test. In addition, you will be shown how to calculate whether score differences between 2 candidates are due to real differences in ability/personality etc. or, rather due to error in the test.
There are some statistical concepts in this Module and that may be off-putting for some. Nonetheless, we encourage you to push through this because, with a little effort, all becomes clear and you will be in a better position than many of your peers when using psychometric tests having understood this!
Learning Outcomes for Module 4
– Understand how test reliability (or lack of it) impacts test score confidence.
– Understand the concepts of random and systematic error and what causes each.
– Understand the difference between an observed score and a true score.
– Understand confidence intervals and how to calculate and apply them in practice.
– Know how to calculate whether score differences are likely to be real or simply down to error in the test.
– Know the rules of thumb for assessing confidence in test scores
Next Module in our Psychometrics MOOC
In our next post, we will cover Module 5: Validity of Psychometric Tests
Register for Free Psychometric Test Training Course
Join Learners from all over the world and network/interact with them and our facilitator in our Learner Forums, Discussions and Live Sessions between 7 October and the end of December, 2015.